Fraunhofer IIS, primary developer of the MPEG-H Audio system, and Mirakulo, a leader in the development and commercialization of software solutions for Brazilian Digital TV, have partnered to bring the first DTV Play Application with MPEG-H Audio support to Brazil.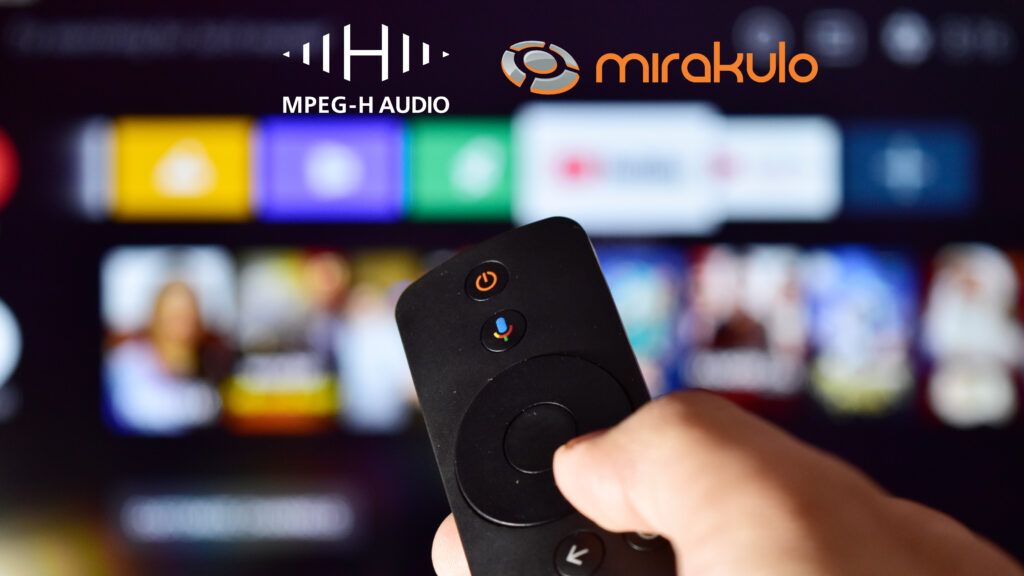 This new approach provides personalization and accessibility in the application layer, giving broadcasters full control over the personalization options they offer. Broadcasters can decide how to deliver these services to their viewers while ensuring highest quality of experience. The DTVPlay application was developed in Brazil in a fruitful partnership between Mirakulo and Fraunhofer IIS. It is making use of the extended media player API for audio interactivity, proposed by Fraunhofer IIS and standardized by the SBTVD Forum.
"We are excited about the collaboration with Mirakulo that turns any Android TV which uses AstroTV into an MPEG-H Audio playback device. That's how we deliver a unique way for viewers to interact with content, and further support the TV 2.5 rollout efforts in Brazil," said Adrian Murtaza, Senior Technology Manager at Fraunhofer IIS.
Mirakulo is the largest provider of the DTV Play middleware in the country and Google's partner for Android TV developments for the Brazilian market. Mirakulo's DTV Play application with MPEG-H Audio support is a game changer for that offers the audience enhanced accessibility and personalization options with high-quality audio. Through the TV 2.5 DTV Play solution, broadcasters can deliver content, which can be personalized according to viewers' individual preferences.
"This is a partnership we are very proud of, as it brings innovation to Digital TV in Brazil and contributes to the evolution of the TV 2.5 standard, while keeping an eye on the new TV 3.0 standard. The manipulation of audio objects will provide an even more interactive and immersive experience for the viewer," said David Britto Jr., Head of Product Development at Mirakulo.
The functionality of DTV Play with MPEG-H Audio can be experienced at the Fraunhofer booth # 44 and at the Mirakulo booth # 37 at Set Expo in São Paulo running from August 8 to 10. For more information on Mirakulo and their Astro DTV Play middleware solution, please visit their website.
Learn more about MPEG-H Audio in Brazil
About Mirakulo
Mirakulo is the leading supplier of Ginga DTV Play middleware and software solutions for the ISDB-T market. They offer a wide range of solutions for digital TV, facilitating the creation of customized business models for this segment. As a service provider, Mirakulo develops custom applications for connected TVs, both in browser and native environments. Our AstroTV Hybrid solution seamlessly integrates the Broadcast universe with Broadband features, offering viewers a unique and engaging entertainment experience. AstroTV Hybrid is natively integrated into TVs, adhering to the main interactivity standards such as DTV Play, Hybridcast and HbbTV.